Garlic and Chilli Tofu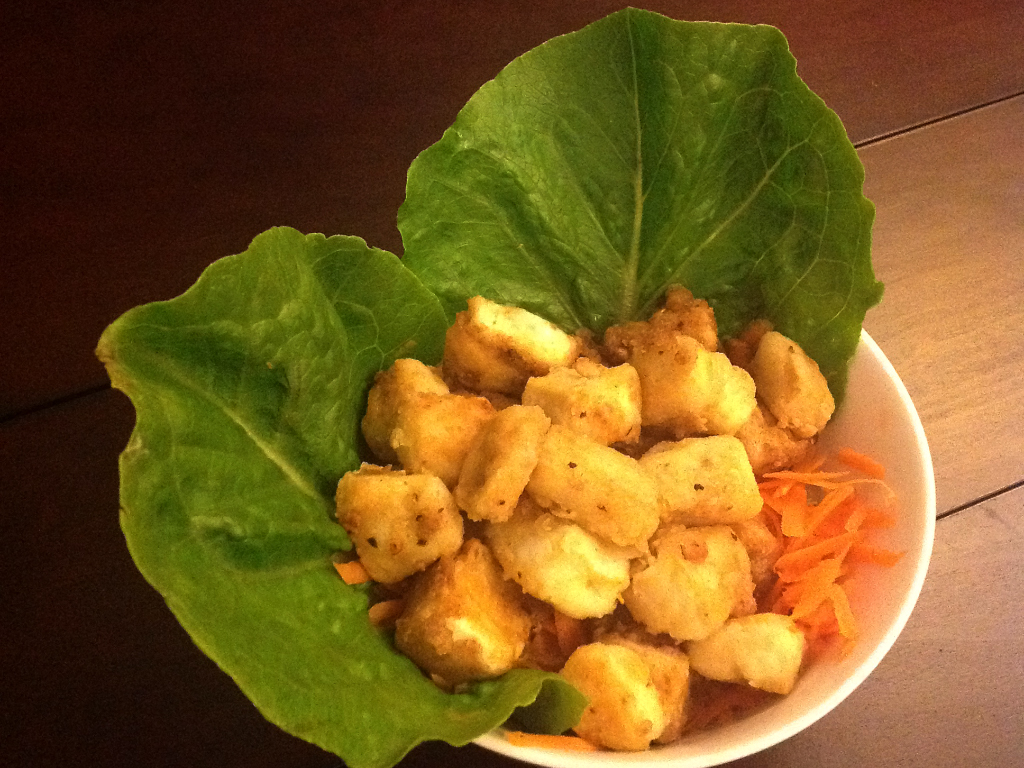 Garlic and chilli tofu, sometimes and more honestly called 'Garlic, Salt and Chilli tofu', is a lovely dish when prepared and served in Vietnamese restaurants.  An even golden crispy layer coats soft, garlicky tofu almost lovingly and slivers of red chilli that look like they've been polished nestle among the accompanying crispy salad and glistening onions.  If it doesn't come with sweet chilli sauce or similar for dipping then you can almost certainly ask for it.
At The Tea House we have currently run out of sweet chilli sauce and our home-made version of garlic and chilli tofu may not be as perfect as the real deal, but it still gets devoured pretty quick …making your lips tingle all the way.
1/2 a block to a block of tofu, depending on how many people you have to feed
1/2 – 1 cup of plain flour
1/2 – 1 tablespoon salt
Teaspoon of dried chillies (or cut up a fresh chilli if you're brave – I recommend wearing latex or vinyl gloves for this)
3-4 cloves of garlic
Oil for frying (preferably something neutral like sunflower or rapeseed)
Cut the tofu up into cubes
Crush the garlic and squish it into the tofu cubes with a spoon OR shake both things in a bag or bowl together
In a separate bowl mix the flour, salt and chillies
Roll each cube of tofu in the flour mixture and transfer to a plate
Heat oil in pan and fry cubes lightly on all sides
Transfer to oven on a warm heat while you make your main course
Serve with sweet chilli sauce, if you have any 🙂