Sweet Potato Curry
The area of London where I used to live and the area of London where I live now have something in common – good South Indian restaurants.  Hence I know the delights of dosas, sambhar and coconut chutney and would take them over poppadoms and something eye-watering with rice any day.  Last time I went to my favourite South Indian Restaurant I was informed that their dosas contravened my no-dairy rule, which made me go 'meh!'.  Then I thought "I bet I can make my own and make it dairy-free!".  And I nearly did.  By the time I'd got the hang of how to fry the dosas there was only enough mixture to give everyone a tiny one by the side of their plate.  Fortunately the curry got the seal of approval from everyone who tried it, including the lovely neighbours, who have provided me with the photo below.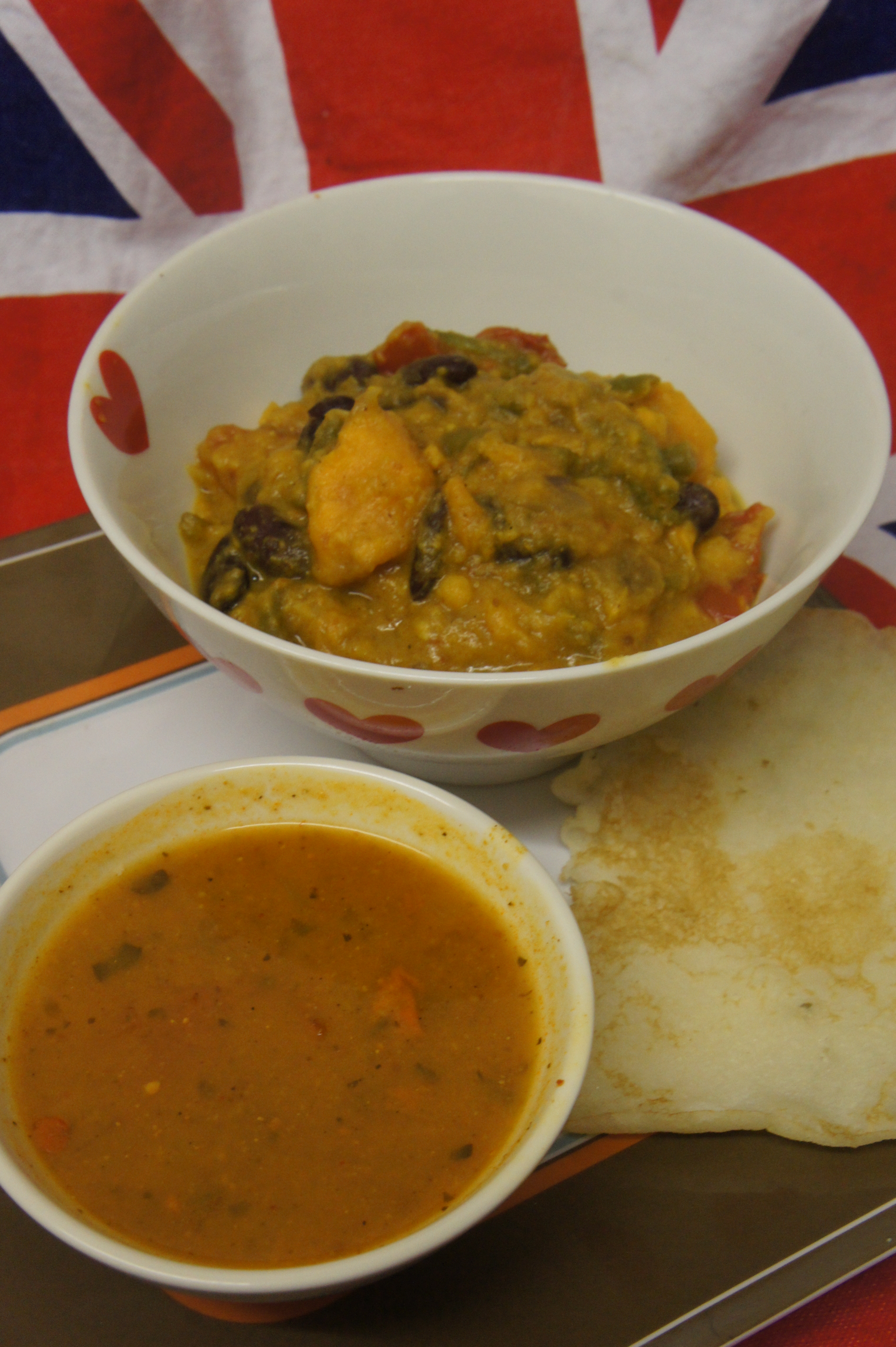 The dosa and sambhar are from a packet I bought at Morrisons although you can buy them online here
The dosa is based on rice and lentil flours but there's a disclaimer on the pack that says it's packed in a plant that processes wheat flour also so I don't know if that counts as safely GF
The curry's fine though – the amount below makes 3 portions
350g sweet potato (one large one)
125g carrots (I think about 3 medium-sized)
1 red onion
4 cloves garlic
Teaspoon sunflower oil (or other neutral oil)
125g red kidney beans, cooked or canned and drained
80g french beans (or dwarf or runner beans)
100ml coconut milk
Teaspoon curry powder
Teaspoon stock powder
2 medium tomatoes
Squirt of agave nectar
Boil the sweet potato and the carrots till almost soft, steam the french beans over the same saucepan if you're lazy (I am, BTW)
Fry the onion and garlic in the oil in a wok or substantial frying pan
Transfer potato and carrots to the same pan
Add curry powder, tomatoes and (both lots of) beans and stir in
Pour on enough hot stock to cover and simmer
Add coconut milk and agave nectar
Keep simmering till liquid reduces and potatoes and carrots go a bit mushy
In the interests of learning to make things that tend towards the healthy, I'll be marking some of these recipes with Weight Watchers Pro Points values.  I know a number of my friends are doing Weight Watchers and I'd like to put recipes on here they can try so you'll see at the bottom of some recipes the letters WWPP and a number.   People who are unconcerned with or even anti the whole Weight Watching thing are welcome to ignore the letters and the number.
WWPP: 6